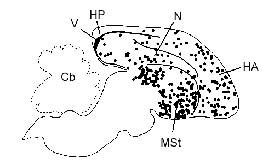 New neurons (black dots) are distributed throughout the telencephalon in adult birds (upper left panel). Many of these cells are added to HVC where they project to RA to become part of the song motor control pathway (lower left panel). Young neurons, labeled with green fluorescent protein (upper right panel) are formed near the lateral ventricle (V) and then migrate long distances.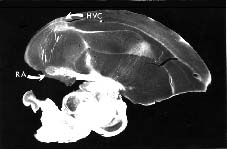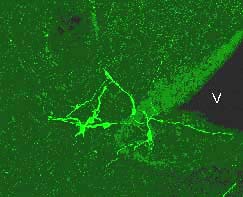 ---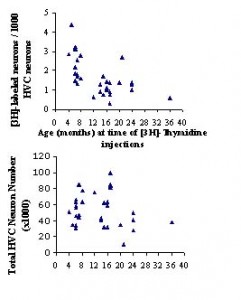 In the canary and zebra finch, neuron addition is highest at times when song learning occurs. Yet even when song is stereotyped, new neurons continue to be added. There is evidence that song maintenance requires motor flexibility and we propose that neurogenesis provides the necessary plasticity both for song learning and maintenance. In the zebra finch, a species that normally does not learn new songs in adulthood, there is a progressive decrease in neuron addition that is not accompanied by a decrease in total neuron number (below). This suggests that with age, vocal control regions become more stable. In turn, we hypothesize that this stability is related to ever increasing stability of song motor programs. Interestingly, in age-matched birds, song stability is greater in birds that sing at high rates, suggesting that "practice makes perfect". We are now testing whether practice influences neuron addition.
---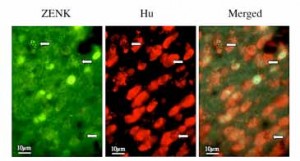 New neurons are activated by singing. Expression of the immediate early gene ZENK is up-regulated by singing. Triple labelling permits identification of ZENK expression in adult-formed neurons. Same HVC field viewed with FITC (left), Rhodamine (middle) and dual filters (right). Following injection of the cell "birth dater" [3H]-thymidine in adulthood, three [3H]-labelled cells (arrows) can be identified by black silver grains. Co-localization with anti-Hu antibody indicates that all 3 are neurons. The upper 2 are ZENK positive as indicated by nuclear ZENK signal (bright green) and the lower one is ZENK negative.